Leadership
SACE CPD Points
Completion of this course carrries 5 SACE CPD points.
SACE is the South African Council for Educators and aims to enhance the status of the teaching profession through appropriate professional development.
Overview
Leadership is fundamental in driving quality in an organization.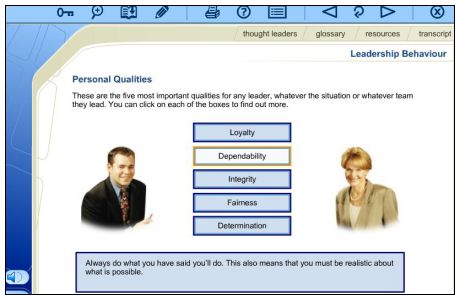 A good leader's actions and words filter down to all organizational levels to create a quality culture. The concepts of organizational leadership are built on a foundation of core business elements. A clear understanding of these elements is key in developing an organization's strategic plan and vision. These core elements include: organizational structure and culture, roles and responsibilities of managers and leaders, change management, motivation and negotiation, and conflict and empowerment. This course explores the concepts of organizational design and leadership challenges.
People are the most valuable resource in most companies. As a leader, you need to know how to get the best out of them. With this course, you can find out how you can develop the qualities to motivate your people, earn their trust and lead them in the right direction.
Course Content
You'll find out about different leadership styles and explore which one could suit you.
You'll learn how to develop your own style and the qualities needed, and recognise the changes you need to make to become a more effective leader.
Case study format with basic exercises and helpful feedback

Audio soundtrack delivering most of the content, with simple graphics and on-screen text summarising the key points

Printable transcript of each screen's audio component for future reference

Lots of different question types to check your understanding

A glossary lets you look up unfamiliar business terms and there's an alphabetical list of business "thought leaders"

Resources section featuring links to useful online business resources
Certificate
A learndirect certificate will be emailed to you when you have successfully completed the course.