Giving and Receiving Feedback
SACE CPD Points
Completion of this course carrries 5 SACE CPD points.
SACE is the South African Council for Educators and aims to enhance the status of the teaching profession through appropriate professional development.
Overview
This course covers the different forms and styles of giving and receiving feedback. Would you like to be able to give and take feedback constructively?
This course demonstrates that feedback is a vital part of the communication process in business and one of the most significant ways that we can learn
and develop at work. Done well it is a two-way process that can help to motivate and improve performance.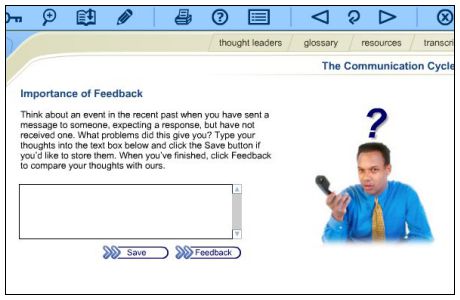 This course will help you to understand the importance that feedback has to play
in the communication process. You'll learn about the different ways feedback
can be communicated, and understand how and when feedback should be used. The course will show you the different forms and styles of giving and receiving feedback.
It also covers how you can benefit from the feedback you receive. You'll discover practical
tips and techniques to help you give and receive feedback positively and effectively.
Features
Case study format with basic exercises and helpful feedback

Audio soundtrack delivering most of the content, with simple graphics and on-screen text summarising the key points

Printable transcript of each screen's audio component for future reference

Lots of different question types to check your understanding

Look up unfamiliar business terms in the glossary and an alphabetical list of business "thought leaders"

Resources section featuring links to useful online business resources
Certificate
A learndirect certificate will be emailed to you upon successful completion of this course .